DBF Viewer Plus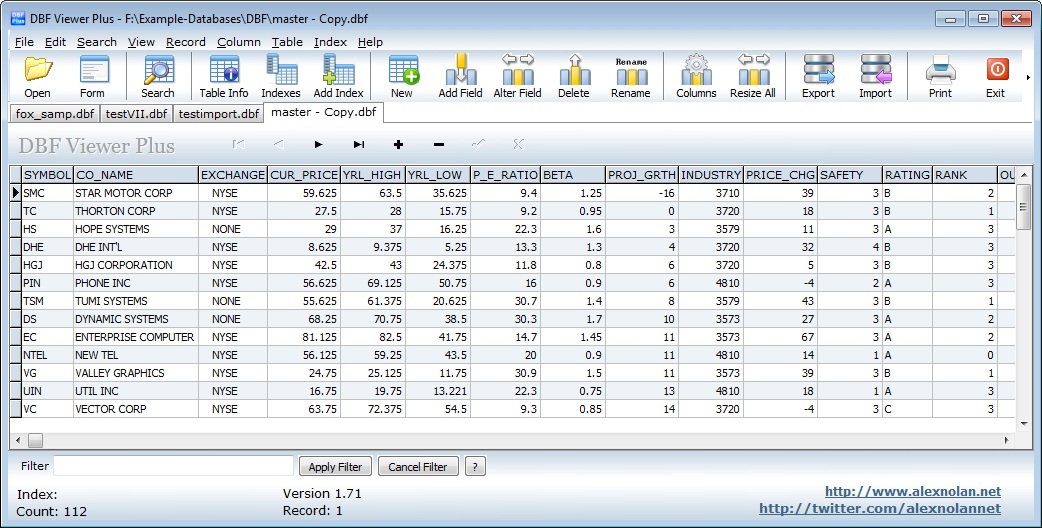 Version Info
Version:
File Size: MB
Release Date: //
Software Updates on Twiiter
Follow on Twitter for all the latest updates and new utility announcements. I also tweet useful IT information and any interesting science and technology current affairs and news.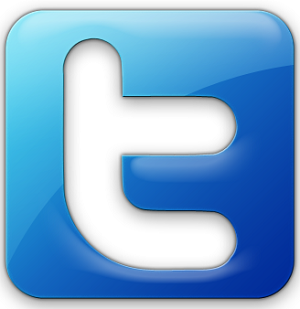 Download DBF Viewer Plus here:

OS: Windows
License: Free
Download EXE

Portable; does not require an install.
DBF Viewer Plus is a portable DBF database table viewer and editor plus some additional features for searching, importing and exporting to a number of different formats. DBF formats include dBase, Clipper and Foxpro.
DBF Viewer has the following features:-
Open and viewing DBF File.
Filtering on multiply fields to query data.
Printing Tables and preview
Add, Edit, Deleting and Updating records.
Search with partial and Case Insensitive options
Go to specified field (for tables with lots of columns)
Table Info displaying Record count, Type, Language type, Records size, Indexed, Encryption, Last updated, fields and field types.
Pack Table.
Zap Table (Empty).
Show / Hide Columns.
Export to formats such as CSV, PDF, XLS, RTF, WKS, XML, HTML, DBF.
Import wizard with field mapping.
Record View and editing screen.
New Table (Create a DBF File)
Open table using command line parameters
Set Table Type
Visual Count
DBF Table Info - Screen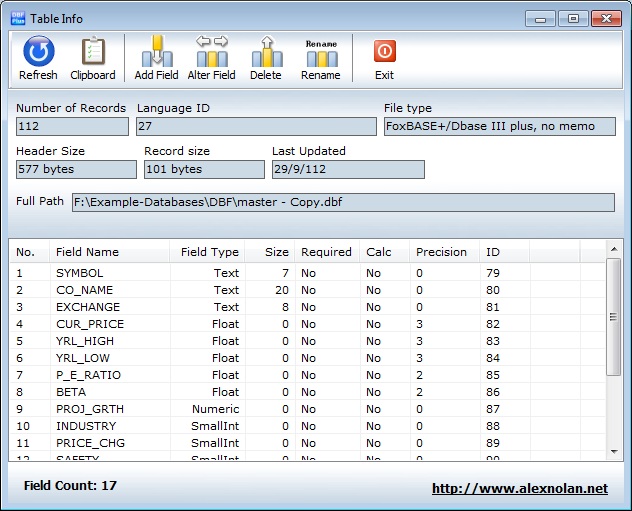 Printing
You can control which columns are print by using the Show / Hide dialog to hide columns
that you don't want to print. To create more space for columns reduce the width of columns
in the grid.
Opening
You can open a DBF automatically from a shortcut using command line parameters:-
E.G. "C:\UTILS\DBFPlus.exe c:\dbf\master.dbf /full"
Memo fields
To edit the text in a memo field simply select the field RIGHT CLICK and select "View / Edit Memo field"
DBF Viewer does not require installation in order to run and therefore can be used to query data on a customers server without it needing to be installed first. It can be run from a CD or DVD and consists of just one EXE file.
This utility accesses DBF Files directly and can filter large tables at a reasonable speed.