Gradient Actualizer - Make gradients real
Version Info
Version:
Release Date: //
File Size: MB

Download Gradient Actualizer here:

OS: Windows
License: Free
Download

Portable; does not require an install.
Gradient Actualizer is a tool for software and website developers that enables you to quickly and easily create gradient images for use on websites and software.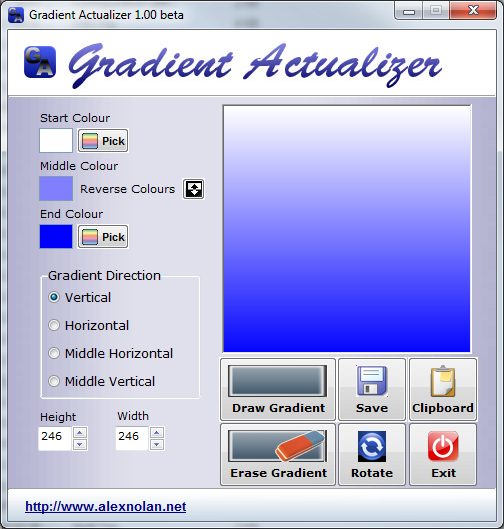 How to create a gradient.
To create an image gradient click the 'Pick' button for both the 'Start Colour' and the 'End Colour' then select the 'Gradient Direction', alter the size of the image if you need to and click 'Draw Gradient'
Your new gradient can be saved to an image file or copied to the clipboard so that it can be pasted into an image / photo editor of your choice. You can also rotate the gradient image if you need to.
If you want to make a gradient from a colour to a lighter or dark version of that colour you can use the 'Define Custom Colors' button on the pick colour dialog (shown below) and select a lighter or dark version of your first colour on the sliding scale on the right hand side.