How to remotely access your computer.
What is remote access?
Remote access is the ability to remotely access and control a PC from a different location to where the PC is actually located. This is done via the internet or direct dialup via a landline.
What is remote access used for?
There are many uses for remote access:-
Supporting a customer without having to visit their location.
Accessing your home computer from work or holiday.
Access a computer on your local network that is in another part of the building.
Access a computer on your local network that does not have a monitor.
Remote Administrator
In this article I going to show you how remotely access your computer using a utility called "Remote Administrator" (Radmin) which you can download from radmin.com.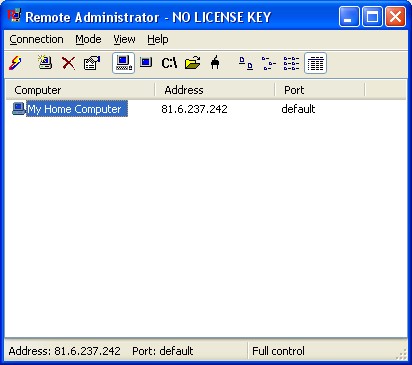 Steps to setting up Radmin for Remote access.
Install Radmin on both the remote pc and the pc your are using to access it.
Add port 4899 to the firewall on the remote computer.
Forward port 4899 to the local IP address of the remote computer.
Find the external IP address of the remote computer.
1. Installing Radmin
A trial version Remote Administrator or Radmin for short, can be downloaded from radmin.com
2. Add port 4899
If you have a firewall installed or you have Windows XP which has it's own firewall, then you will need either open port 4899 or disable the firewall. For instructions on how to add the port on the Windows XP firewall, see my article Adding Radmin port to Windows XP firewall.
3. Forward port 4899
If the remote computer access the internet via a router instead of an ADSL/DSL modem, then you will need to add TCP port 4899 to it. How to do this varies from router to router so for a complete set of instructions for your particular router go to the website http://www.portforward.com select your router from the list and then select the application "Remote Administrator" from the application list and it will produce a complete set of instruction on how to forward port 4899 on that particular router.
4. Finding the external IP address
To connect to the remote computer you will need the external IP address. This is different from it's local IP address and is assigned by your ISP. There are two types, static and dynamic. A static IP never changes and a dynamic IP address changes every time you connect to the internet. Click here to see your External IP address. You will need to do this from the remote machine it's self.
Using Remote Administrator
Open the Remote administrator viewer.
Select Connection - New.
Enter the external IP address of the remote computer.
Enter a memorable name for the connection.
Click OK
Double click the new connection to connect.